It was a great day for the one known as Dallben. The very thing that drives conversaion, society, and life was about to come to an end. Side-tracking. It was fun at first, learning of secret societies always is. Time however was being wasted. So tonight the citizens of the settlement of Blackrock gathered to end their ties with the pleaders of chaos, to advance the checklist set down by their leader, and to have some fun.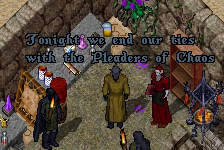 See, I told you.
The goal was pretty simple, murder the people they had become tied to over the last year investigating this mess, thus ending ties. The Cabalists gathered outside the abbey to take down
Ames, the Monk they spied on earlier.
Outside the abbey doors Dragothien readied his bow and arrow to stand guard. Their leader eyed his time tracking trinkit and spoke.
"Tis two o'clock in the evening! well find him praying by the ank in the back!"
He kicked in the door and they rushed straight to the back. Completly unnecessary. The doors are open to all and there was almost no one inside, and there was, no Ames. In his place was a note.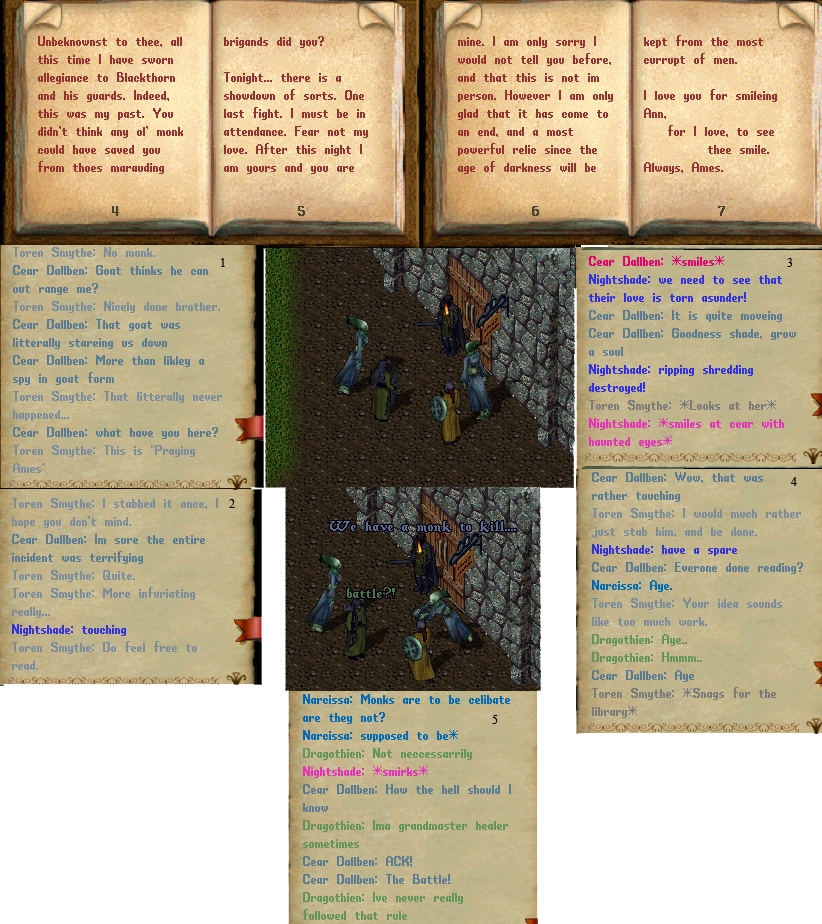 Dallben that oaf! He forgot about the battle north of Delucia!
"Gate us at once!"
he shouted. He was so vauge that many gates appeared, but he chose the right one, he found out later...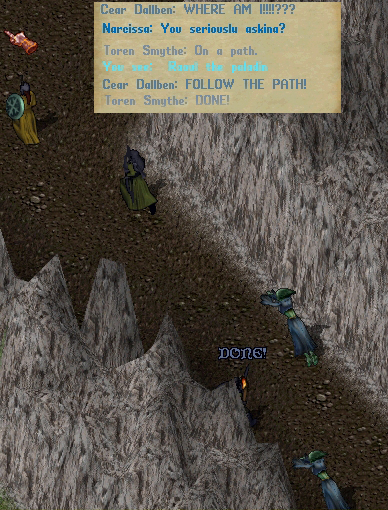 They ran with excitment towards the battlefield, knowing they could simple start killing everyone they saw and end more ties than before! What fun!
But alas.......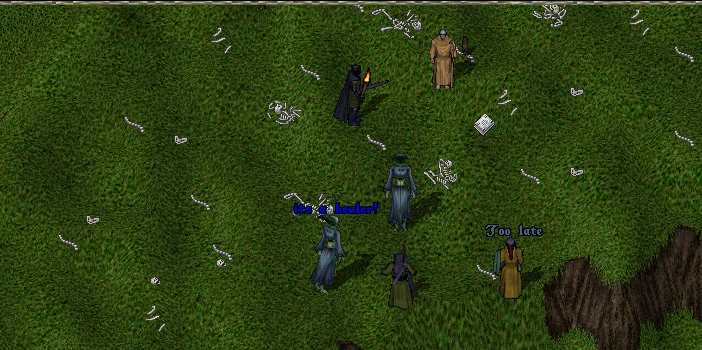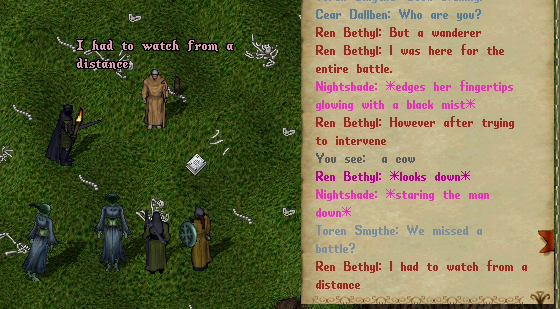 Everyone was dead! There was but a wandering healer sobbing over the remains.
The followers of armageddon got a small glimpes of the world after their spell.
Their leader had them search the boddies while they interrogated the healer.
Inside this body,
There was a map.
Smythe rolled up the map and the healer explained how no one was left alive.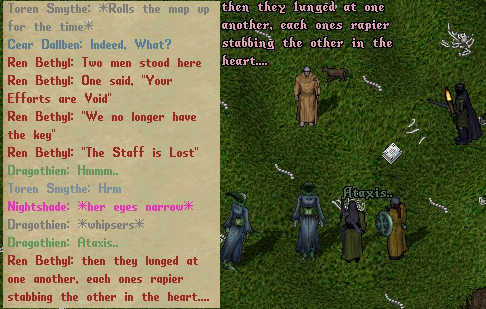 How sad, atleast there all dead. After helping the wandering healer become unconsious
The Cabal dashed for the
X
on the map!
The destination was Trinsic's east side.... by the Paladin Hall....
The followers clad themselves in healer garb and humbly walked to the destination.
There was a shrine, with three candles. There were phantom smells of death.
Are they going to exume someone? or something?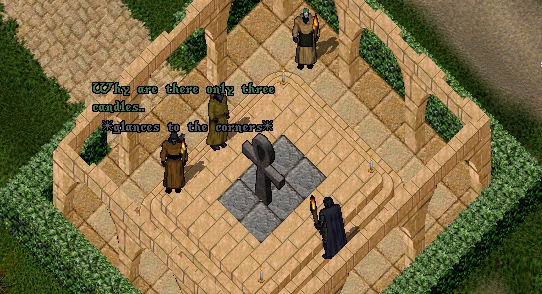 The day was long for the seekers of death and peace. So it was back to the settlement
to meditate, relax, and think of how they would exume a body unnoticed from a sacred location.
Perhaps their days of walking in the shadows was comming to an end. What could they do?
What does Trinsic have comming?